The Text from the Osario in Chich'en Itzá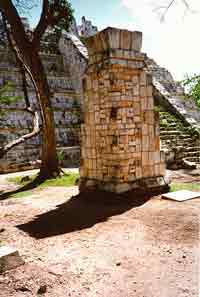 In the process of studying the Osario for her MA thesis, Annabeth Headrick (1991) and Linda Schele re-examined the date and came to the conclusion that a far better placement for the date was 10.0.12.8.0 (June 20, 842). Their reasoning was based partially on Headrick's new interpretation of the group as one of an origin and on the fact that Schele did not think that a 2 Ahaw K'atun was mentioned in the text. Schele and Freidel (1990:500) published this earlier
placement of the date and one a calendar round later.

This summer, we had the opportunity to examine the original monument and a
photograph of the rubbing Merle made of it. Mathews's earlier drawing based on a photograph is fairly accurate, but our new study has allowed some refinement on the reading of the text. The opening two glyphs are clearly 2 Ahaw 18 Mol. C1 is very badly eroded, but it is clearly part of the expression that records the name of the k'atun. We were able discern a tu sign, but the k'atun
expression does not match any of the other formulas known at Chichen.


Updated: Nov 29, 2004 - 05:57
Created: Nov 29, 2004 - 05:12

Download this document in PDF format using the icon. You'll need Adobe Acrobat Reader to view the file.

File Download