Ecoturismo Yucatán Bookstore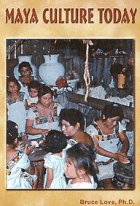 Maya Culture Today
Author:
Bruce Love
Edition:
1st.
Publisher:
Unknown
Price:
$ 5.50 USD, plus $ 5 per order

Add to Cart
Introduction
I am writing this book for you, the tourist, because you have an honest curiosity about the Maya people of today but almost no access to information about them. As an anthropologist who has worked among the Maya people for some twenty years, I am often surprised by the misconceptions that I overhear in conversations in hotel restaurants and among tour groups at the ruins.
I am also impressed, in a positive way, with the new ecological and cultural consciousness of tourists. It is no longer enough to simply marvel at the ruins and go back to the hotel. You want and deserve more. What about the people you see in the villages and towns along the highway? How do the people live, especially the people deep in the forest? Are they healthy and well fed? How do they make a living? What are their religious beliefs and social customs? Is there a connection between the ancient Maya who built the temple pyramids and the living Maya of today?
This book will try to answer some of these questions and more. I know you are curious and keen on learning, but there is an even more important reason for writing this book. The Maya people deserve it. They have a right to be recognized as a living, breathing social and cultural force. They did not disappear with the collapse of the Classic Maya civilization. They are here today all around you. Let me introduce them to you.