Traditional Mayan Night

Add to Cart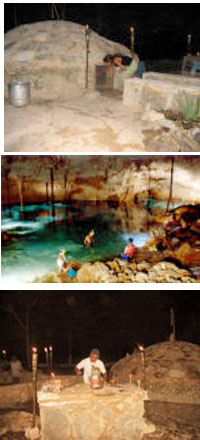 It is a magical night living and learning from the knowledge of a typical Mayan family that still lives in the jungle far away from technology and civilization managing to keep their ancient traditions.
We leave from Playa del Carmen around 8 pm driving approximately, one hour to get to the community of Dos Palmas in the middle of the jungle. Its amazing how the jungle lives at night.
The head of the family has inherited the art of these magic traditions and he goes on showing them to his son, and thus following the family line. This is the way we know most of the things of the Mayans. The Temazcal, (ancient sauna bath) is one of these traditions that the Mayan community shares with visitors .
After the Temazcal sauna bath, we have the opportunity of swimming in a cenote, (natural cavern sink holes) that with its refreshing waters, reenergizes us and welcomes the visitors back into the world as warriors in mind and spirit.

We also enjoy a dinner based on chicken pibil, marinaded in achiote (a regional seed orange paste that is the Mayan equivalent of BBQ sauce) beans, rice and hand made tortillas. Vegetarian dinner is available upon request.
After dinner we walk through the jungle and see their small community, entering one of their palapas ( wood cabins) and learning from them and their every day instruments and rustic furniture
We return to the hotels around 12:30 am.
7 PM Pick up at Riviera Maya Hotels

8:00 PM We drive through the jungle 2 kmts, and we get to "Dos Palmas", small Mayan community that keeps their traditions.

8:10 PM Introduction of the Mayan purifying ritual by a member of the community that includes a brief visit to a Temazcal, ancient sauna bath of Mexican cultures.

8:30/09:00 Encounter with the Xaman (spiritual leader and healer) around the healing fire circle, where you get the possibility of experimenting a Temazcal, ancient mexican traditional sauna bath.

09:15 PM Brief walk through the jungle ecological reserve, on our way to enjoy a purifying and refreshing dip in "Dos Palmas" Sink hole (cenote). It is an unforgettable experience after the temazcal, sauna bath to get our strengths back and be reborn again with mother earth.

10:00 PM Typical dinner and introductory visit with a community member to their village learning about their simple and beautiful way of life.
A magical atmosphere will be with us through all the night.

11:15 PM Back to the hotels, end of the visit.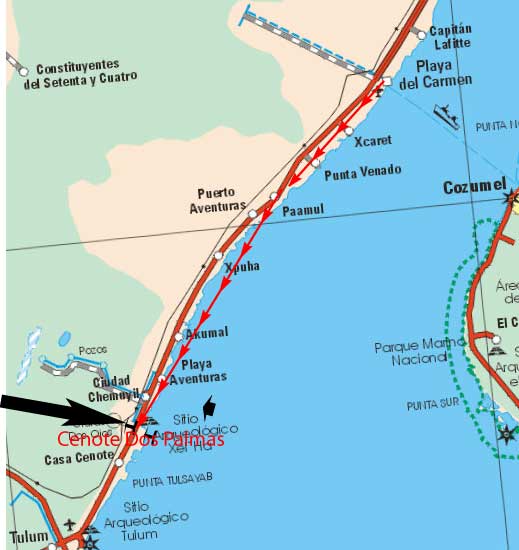 Tour Prices

DAYS: FROM TUESDAY TO SATURDAY
LANGUAGES: ENGLISH, SPANISH, ITALIAN, FRENCH AND GERMAN
MINIMUM AGE 12, YEARS

We recommend taking: swimming suit, towel, dry spare clothes, and comfortable walking shoes.
Do not bring jewels, leave watches, rings, chains and earrings at the hotel.

The visit includes.
- Transportation from and to the hotel.
- Specialized guide in English, Spanish or Italian.
- purifying ceremony
- Temazcal, ancient traditional sauna bath optional
- Typical Mayan dinner with one beer or soft drink,
- swim at the cenote (sink hole)
- Visit to the Mayan community