Birding in the Yucatan Peninsula

Add to Cart
The Multitude of protected areas and the dawning of a conservation culture among area inhabitants make the region a treasure for birds and birders alike.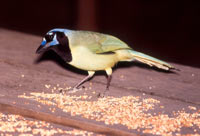 Tour's Schedule
Day 1: Arrive at Cancun airport and tranfer to Hotel Margarita, in downtown Cancun. Evening at leisure.


Day 2: Early visit to the botanical garden of Puerto Morelos where we may observe such local birds as the Rose-throated tanager, Yucatan Woodpecker, White-bellied Wren, Black Catbird, Blue Bunting, Green-backed Sparrow, and the Orange Oriole, among others.
Continue forth to the archeaological site of Tulum for lunch and birding for aquatic birds around the site. Continue south to the town of Felipe Carrillo Puerto where we will overnight at the Hotel Faisan y el Venado (simple accomodations)

Black-throated Bobwhite (Colinus nigrogularis)


Day 3: We will spend the full day exploring the Carrillo Puerto area,a town surrounded by tropical semi-deciduous forest which holds a high diversity of avifauna.
Some of the birds we may see here are: Thicket Tinamou, King Vulture, Black Ornate Hawk Eagles, Singing Quail, White-bellied Wren, Orange Oriole, Ocelated turkey, Great Curassow among others. Overnight in Hotel Faisan y el Venado.


Day 4: Morning will be spent birding in the forest around our hotel. After lunch we drive north to the city of Valladolid where we will spend the next two days. Overnight in Hotel Quinta Real (4 stars)


Day 5: Today we will visit Rio Lagartos National Park, on the northern coast of the Yucatan Peninsula, which combines desert-like coastal scrub, thorn forest, a mangrove-fringed estuary lagoon complex and a large
area of salt evaporation ponds. Take a boat and journey through the mangrove lagoons in search of American Flamingo, Reddish Egret, Boat-billed Heron, Kelp Gull and two endemic birds; the tiny Mexican Sheartail and the Garrulous Yucatan Wren, among other birds. After lunch we´ll visit a nearby salt works, home to the Snowy Plover, Gull-billed Tern, Peregrine Falcon, etc. Return and overnight in Overnight in Hotel Quinta Real (4 stars)


Day 6: Very early departure to visit the Punta Laguna Spider Monkey Reserve. This well preserved jungle habitat may allow us to watch other animals like Spider Monkeys and Reptiles. Later we arrive at the archeaological site of Coba to do some birding in the site and on its lagoon.
Some of the birds we may see in Punta Laguna and Coba are: Tricolored heron, Singing Quail, Ruddy crake, Collared forest-Falcon, Plain Chachalaca, Little Blue Heron, Northern Jacana, Royal Tern, Martin and a long etc...
Lunch at the site. After our visit we travel east to the city of Playa del Carmen on the Caribbean coast where we catch the ferry to Cozumel island. Your private transportation and guide services end here.
Check in and overnight in Hotel Villa Blanca beach garden. (4 stars located right on the beach)


Day 7, 8 and 9: Days at leisure. These days you can continue on your own, bird watching around the island, snorkeling, scuba diving, shopping, etc.
Day 10) Transfer to Cozumel airport for flight home. End of services.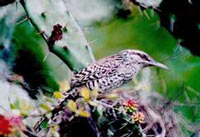 This Tour Includes:

he price can change depending on the date of the tour. The price includes:
*Private transportation in A/C vehicle
*Private tour guide /ornithologist
*Shared transfer airport-hotel-airport
*Entrance fees to the sites mentioned in the itinerary and boat trip in Rio Lagartos
*Hotel accomodation:
Margaritas/Cancun 1 night
Faisan y el Venado/Felipe Carrillo 2 nights
Quinta real/Valladolid 2 nights
Villa Blanca/Cozumel 4 nights
*Insurance and taxes

Does Not Include:

*Any meals or drinks
*Archeaology tour guide (our birding guides are not specialized in Archeaology-Berlanga, Mendez)
*Tips
*Laundry, telephone calls
*Any other service not mentioned in the itinerary
*Any flights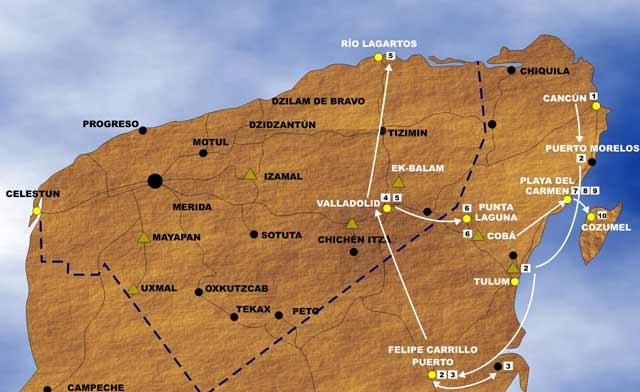 Suggested items to bring along:

- insect repellent - sunscreen (preferably biodegradable) - binoculars - hat - raincoat - comfortable clothes - bathing suit - walking shoes - small towel.
Tour Prices
Approximate price per person in double accomodation is $2,306.00
Single supplement: $352.00 usd
Tour price may vary depending on departure date.