Yucatan Trip To The Land Of The Ancient Maya with Bruce Love

Add to Cart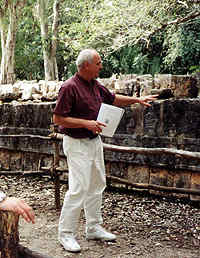 Bruce Love, Ph.D.
Curriculum Vitae

Nine days in the land of the ancient Maya, where two thousand years of history come alive among the pyramids and temples of one of the most advanced civilizations ever to emerge in the western hemisphere. I have been traveling and doing field work in Yucatan since 1971, and have published a number of books and articles on Maya subjects, focusing mainly on the decipherment of the ancient hieroglyphic writing and contemporary Maya religion and ritual. I will be sharing with you my expertise in Maya hieroglyphics, archaeology, language, and customs, and will be offering evening lectures in addition to the tours at the ruins.
Tour's Schedule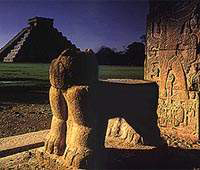 Day 1: - As we arrive in Merida from our varios origins, Ecoturismo will meet us at the airport and take us to Hotel Castellano in the heart of historic old town Merida.

Day 2: Sun. - Meet for breakfast, our first day in tropical Yucatan. Enjoy mango, papaya, pineapple, and watermelon fruit plates with breakfast. Short morning drive to Dzibilchaltun.

Dzibilchaltun, an archaeological site that spans 2000 years. Sea food lunch at the beach town of Progresso on the north coast. Back to Merida after lunch for an afternoon tour of Museum of Anthropology. Late afternoon free time to rest or visit market place. After dinner walking tour of historic buildings and murals in Merida.

Day 3: Mon. - After breakfast, depart by bus to Izamal where the Spanish conquistadors built their church on top of a Maya pyramid, and to Kinich Kakmo, the largest pyramid in volume in all of Maya land. Lunch in Izamal. Continue to Chichen Itza. Afternoon tour of Chichen with the famous Castillo pyramid and the sacred well of sacrifice. Overnight in Hotel Hacienda Chichen, at the edge of the ruins, a refurbished 19th century hacienda with individual bungalows in a tropical setting. Dinner at the hacienda followed by optional evening "Light and Sound" show at the site.

Day 4: Tues. - Spend morning at Chichen Itza, visiting the observatory, the "nunnery," and other examples of Maya architecture from AD 800, the Classic Period of Maya civilization. Lunch in nearby Piste. After lunch, enjoy an afternoon around the pool or go on optional long trek to "Old Chichen" deep in the forest. After dinner, a lecture on deciphering Maya hieroglyphics.

Day 5: Wed. - Short drive to the ancient ceremonial cave of Balancanche, where evidence of underground religious rituals were discovered by archaeologists in the 1960s. Stop at Dzitnut Cenote located a few km. before Valladolid to enjoy a refreshing swim. (bring along your bathing clothes) Arrive for lunch at hotel in Colonial city of Valladolid. After lunch, bargain with Maya vendors on the old plaza, visit the cathedral, and/or take a pleasant stroll to nearby cenote, a huge opening in the ground, covered in tropical foliage, with deep green water 100 feet below the rim. In the late afternoon, a short bus ride to Ek Balam, one of the newest and most spectacular discoveries in recent years, with 1000-year old plaster sculptures of monsters and gods, freshly uncovered by archaeologists. Return to Valladolid and an informal outdoor dinner of local panuchos, salbutes, and other finger food of Yucatan.

Day 6: Thurs. - Leave for Coba, one of the largest of all Maya sites, 90% of which is still covered in jungle. Lunch at local restaurant. Afternoon visit to Tulum, the most picturesque of all Maya sites, perched on a cliff above the Caribbean Sea. Optional dip in the ocean if you wear your suit to the ruins. Return to Hotel at Coba for supper and evening lecture on contemporary Maya religion and ritual, then swim and relax around the pool.

Day 7: Fri. - Drive to Uxmal (pronounced oosh mall; the Maya "x" is pronounced like English "sh"), the longest drive of the trip, almost four hours altogether, but with a fascinating rest stop at Hacienda Yaxcopoil for a close-up view of 19th century life on the old henequen plantations. Lunch at Hacienda Uxmal, followed by afternoon visit to spectacular 1200-year-old Maya ruins in the Puuc hill country. The "Governor's Palace" here was one of Frank Lloyd Wright's favorite buildings in the world, and influenced some of his later work. Evening pool-side lecture on the collapse of the Classic Maya civilization. Overnight at the beautiful refurbished Hacienda.

Day 8: Sat. - If you haven't seen enough archaeological sites to this point, we will give you total saturation to wind up the trip in a four-hour marathon of hill-country sites, with their distinctive Puuc architecture, including Kabah, Sayil, Xlapak and Labna, and a special visit inside a contemporary Maya house and yard, all before noon. Return to Hacienda Uxmal for lunch. Depart for Merida in the afternoon with time for last minute shopping. Farewell dinner at restaurant Albertos Continental, famous for its Lebaneese cuisine and Yucatan plates.

Day 9: Sun. - Depart for airport and return to U.S. (No breakfast included on this day)

The weather will generally be warm and sunny, maybe even hot at times, with high humidity, but it can also be quite cool if the north winds are blowing off the Gulf of Mexico. No more than a light jacket will be needed. Broad brimmed hat, sun screen, and bug spray are recommended (you can buy straw hats from local vendors if you don't feel like bringing one on the plane). No special shots or pills are needed but if you have a favorite cure for "Montezuma's revenge" you might want to bring it along just in case. There are modern pharmacies and stores along the way if you want to buy an aspirin, toothpaste, or whatever. The food is excellent, the restaurants are clean, and you can drink the water at the restaurants because they all use bottled water.

Generally speaking there will not be easy phone service, fax or other modern communications at the hotels which are in fairly remote settings. It's better not to have to call the States during the trip if you can help it. Try to bring enough clothes for the whole 9 days, since we will not be staying one place long enough to get laundry done.

Passports are required.

I do not recommend travelers checks because they take time to cash and there is a fee or a lesser exchange rate when you cash them. I would bring 20 dollar bills to change at the local exchange places, so you don't have to stand in line at the banks with your travelers checks.

We will be staying in nice hotels and eating in clean restaurants. We will not be roughing it in any way, except that the walking tours of the ruins can be a little strenuous as the ground is uneven and rocky in places and there is some climbing involved. Racing to the tops of the highest pyramids to look out over the jungle is optional.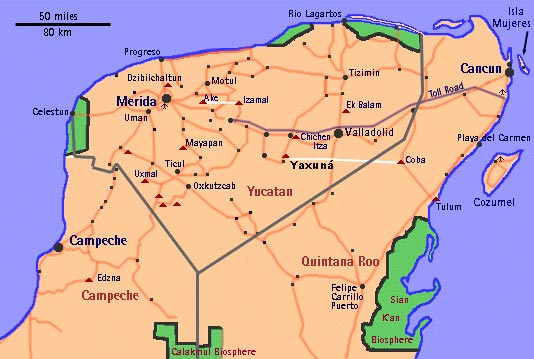 This Tour Includes:
This cost includes ground transportation, all hotels, meals (except dinner on and Breakfast on ), tips to waiters, tips to bellhops, tips to room service, tips to luggage handlers at airport, and airport taxes. Your only out-of-pocket expenses will be drinks with the meals, snacks along the way, and of course, souvenirs.
Does Not Include:
Laundry, telephone calls
*Any other service not mentioned in the itinerary
*Any flights
Tour Prices


Suggested items to bring along:

- insect repellent - sunscreen (preferably biodegradable) - binoculars - hat - raincoat - Flash-light- comfortable clothes - bathing suit - walking shoes - small towel.